For those who initially start to Dropshipping has many doubts about how the shipments work. I'll try to answer the recurring questions and to make you understand how the order is managed by Bazarissimo for shipping.

I think it's important for you to understand how we work, in this way you'll have clearer ideas and you can also better help your customers.
THE TIMINGS
Bazarissimo has more warehouses all over Europe (no products are from outside the EU), so the timing of evasion is very low.
It is important that you know that management times change if you have a LITE or PRO account: with PRO account shipments always start within 2 working days unless expressly indicated otherwise in the product description, while if you have a LITE account shipments start within 5 working days.
How to count working days?
If you place an order by 10 am the order is placed in the "In processing" status the same day, from that moment you know that the product leave within 2 or 5 working days (the weekdays and holidays are not counted as working days).
Let's take a few examples:
Anna makes an order Tuesday morning at 9am. In this case the order goes "In Processing" on Tuesday and the order will leave by Wednesday (2 working days).

Lorenzo places an order on Thursday at 4pm. In this case the order goes "In Processing" the next working day (Friday). Lorenzo knows that the order will leave at the latest on the following Monday.
Once the package is entrusted to the courier it takes 1/2 working days for delivery to the customer throughout the European Union.
If the customer lives in a disadvantaged area or with a non-optimal logistic service coverage, it may take 3/4 working days for delivery.
COSTS
We have attractive prices for shipments, in fact they are all fixed: no extra cost for deliveries to floors, no extra cost for the Islands, no extra cost for stocks and practical openings.
These costs typically raise shipping costs a lot, we have removed them .
But that's not all: with this tariff the insurance is provided if the courier does damage (only for express couriers) so you will not have to pay any costs in case there are damages, losses, etc.
If the price of the shipment seems high, remember that with that rate you are protected by everything and you have no other costs.
The management of shipments is based on the total weight of your order, example:
If you place an order with 1 product weighing 1kg the shipping cost by courier is 5.93€ (to Italy).
If you place an order with 5 products that weigh a total of 1.5kg the cost of shipping is always 5.93€ (to Italy)
With an order of several products you only pay for one shipment: you have to look at the weight and not the number of products.
WHO SUPPORTS COSTS
Shipping costs are not included in the Dropship price: your customer must pay them, so you have to add them to the price.
TRICK 
You have two systems to work with the "psychology" of the customer: you can put the selling price and add the shipping costs (in this way the customer sees a double cost) or enter the shipping costs at the sale price and leave the free shipping (your customer will see only one cost and will be encouraged to buy from you by receiving a "profit" in not paying shipping costs).

The third option is to use both, that is to incorporate part of the shipping costs in the sale price.
SHIPPING ABROAD EU
Shipments abroad have the same functioning as those for EU, with only one difference: there is a cost for the Customs Practice (reported and fixed).
The shipping costs are calculated on the total weight of order.
WHAT KIND OF SHIPPING ARE THERE
To make the whole system simpler we offer you the possibility to send in 2 methods:
Express Courier
Non-Tracked Post for stickers (only for Italy)
We use different types of courier based on your customer's area (DHL, UPS, SDA, TNT, etc).
TRACKING
If you choose Express Courier or Tracked Post as a courier, as soon as the order status changes from "IN PROCESSING" to "SHIPPED" you will receive an email with the link and the tracking number, so you can give it to your customer and he can follow the journey path.
WARNING : untraceable methods (Non-Tracked Post) are not guaranteed and are not recommended by Bazarissimo.
COMPLETE PRICE TABLE
Here you can find the prices (excluding VAT) and the countries supported.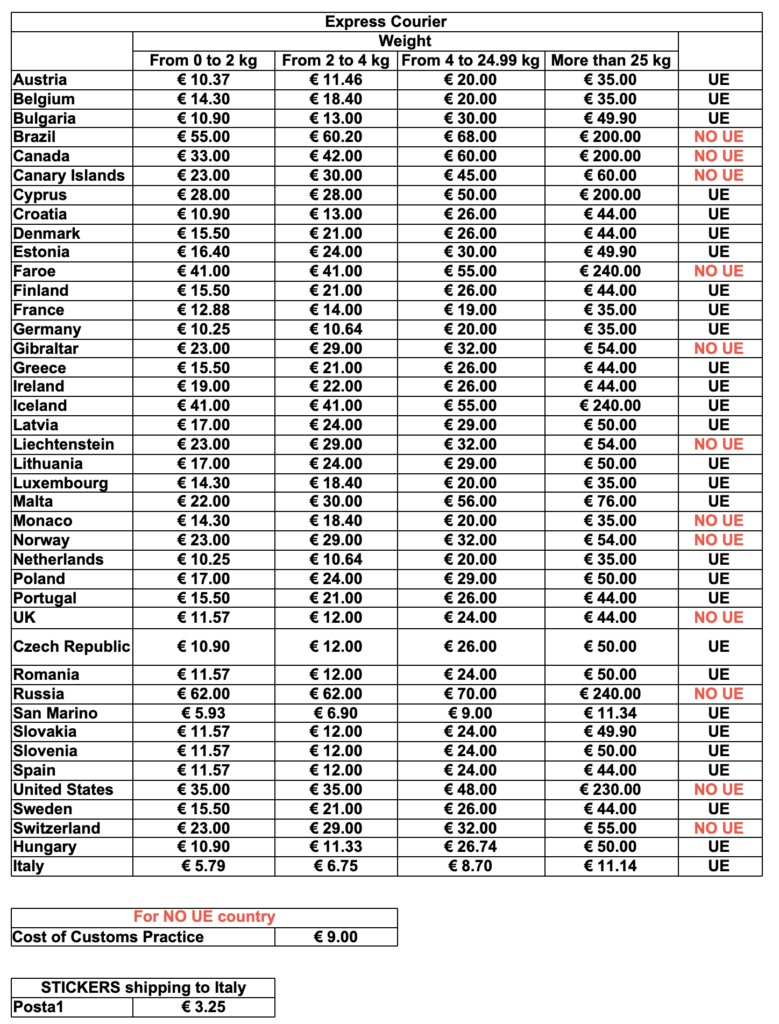 ---
I hope these directions will be useful to you, if you have any questions please comment below.
See you next time!
Mike
---