What is Dropship!
Find out how this business model makes you earn from working at home.
Are you interested in knowing the drop ship system, also known by the term
drop shipping or dropshipping?
You will often hear the words: supplier, wholesaler, manufacturer … ..
all these terms in our daily use unite them with a single word "Supplier".
In our case by supplier we mean:
a company that has material at its warehouse at a suitable price to allow the
seller to have their own income.
Wikipedia defines dropship as a sales model thanks to which the seller sells a product
to an end user, without having to first purchase and deposit in their warehouse.
The seller made the sale will send the order to the supplier
that in this case we call "dropshipper".
This will send the product directly to the final customer.
Simplifying we can say that a dropshipper is:
a supplier that sells its products to retailers who in turn sell to retail
through stores (e-commerce) or web pages.
As you read this article you will discover that Dropship is the ideal method
to create your business on the Internet working from home with a minimum investment.
Now you're wondering, "It's okay what you wrote but …
I have read and heard from people who run e-commerce, web pages,
sellers on ebay or sales gurus that with the dropship you can not make any profits
because it is the supplier that earns us, leaving a margin reduced to the seller ".
I want to unveil a secret: Amazon, Sam Club, Costco are Dropshipping resellers!
Do you think companies are not earning?
After reading this …
excluding you being an individual with a thorough or specialized knowledge of dropship,
I'm sure the information you'll find on this page has never been found in Italy.
… and why?
Simply because when you are busy with something, it generally lacks time to do
investigations and comparisons.
If there is a fundamental element for success in any business,
it is and will always be the CLARITY of your INTENTIONS.
How to understand if it is better to work with Bazarissimo
Perhaps you do not yet have enough data to evaluate if dropship is advantageous or not?
Here is an example of how our seller Paul
he analyzed costs and earnings to decide whether or not to launch his business with Bazarissimo.
First of all, Paolo has prepared a list of the time he saves in the various phases of the activity:
It must not create images
The descriptions must only adapt them to make them more attractive according to the audience they intend to involve.
It does not have to handle orders
It does not have to pack and label customers' orders
You must not deliver the parcels to the courier or to the post office
It must not manage warehouses, stocks, electricity, taxes etc.
Paolo has decided that he will upload 64 articles to his e-commerce and expect an average of 7 sales per day.
These data are not invented but the result obtained after careful market research
which has already been done previously.
Based on the list of activities to be carried out, Paolo estimates how much time he can save on average:
16 hours saved because it uses the images and part of the descriptions provided by Bazarissimo.
(15 minutes for each product for 64 products that loads on its e-commerce)
40 minutes a day to deliver the products to the courier or post office
5 minutes to collect and pack each order
The total hours saved are:
16 hours to install the products
1.25 hours per day (7 orders X 5 minutes per package + 40 minutes for delivery to the courier or to parcel post offices)
Now Paul must determine the value of his time.
Paolo uses a simple calculation tool his last job, where the hourly cost was € 15.00 per hour.
The economic saving that gets in the installation of the articles is € 240.00.
Obtained from the sum of the 16 hours calculated to install the products X € 15.00 cost per hour.
It will also save daily, because it avoids preparing and delivering parcels, equal to € 18.75 (1.25 hours X15 €).
Paolo calculates inventory savings, management costs and packaging costs.
This can be a confusing calculation but …
to make a decision you do not need to have the exact numbers, an estimate is sufficient.
Paolo estimates the following costs:
€ 200 per month per warehouse's rent
€ 120 per month for warehouse management and inventory
€ 0.80 per order for packing materials (box, packing tape, labels and delivery voucher sheet to be included in the package)
Paul also makes a calculation of the lost discounts because he does not buy wholesale.
Estimate 5% on the wholesale price.
With an average purchase cost per product of € 14.00 he will have an additional cost
extra € 0.70 per order. (€ 14.00 X 5% = € 0.70)
Paolo keeps in mind that he may have some problems with shipments,
his conservative estimate is that one order in 20 may end badly.
Therefore Paolo decides to reimburse the customer the cost of shipping
to keep its level of service and professionalism high.
His assessment is that every 20 shipments,
each at an average cost of € 9.50, one will have to reimburse.
Therefore the additional cost is € 0.47 per order. (€ 9.50 shipping cost to be refunded: 20 shipments = € 0.47)
According to Paul, other data (his earnings on the sale of products) are irrelevant
to decide if it is better to work with Bazarissimo.
Now Paul compiles all the costs and save on a daily basis assuming that he will have an average of 7 orders a day.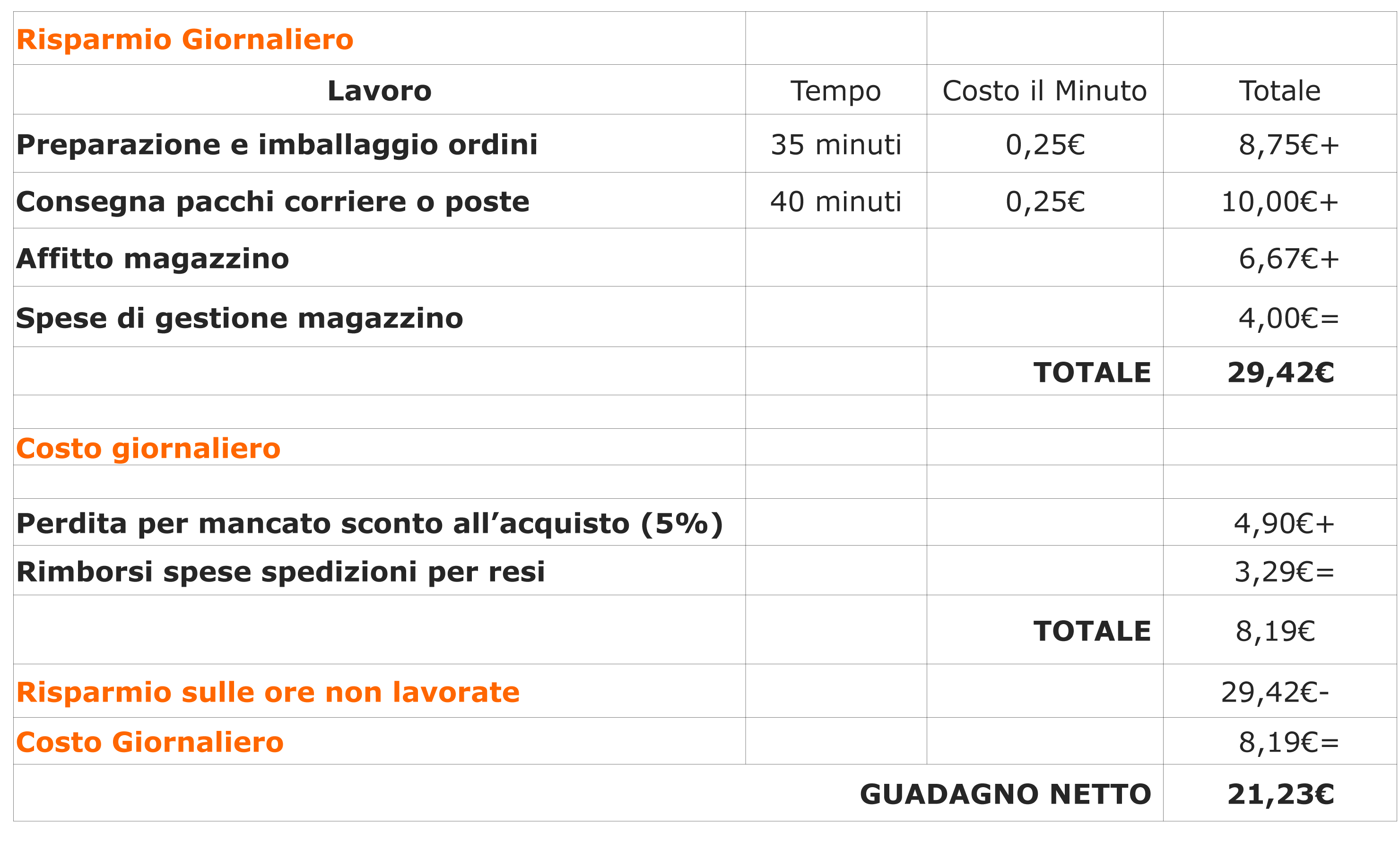 The table shows that Paolo has a saving of € 21.23 per day, about € 630,00 per month using Bazarissimo
In the start-up phase he saved € 240 because he did not have to work for photos and descriptions.
It also has a big money saving to avoid having to buy the goods to be deposited in the warehouse in advance.
After this analysis for Paolo it makes sense to launch a store with the dropship system of Bazarissimo
because in addition to the amounts analyzed above
Paolo must also add the profit that comes from the sale of products.
The Six Reasons Why Use the Drop Ship
The advantages you get with this work system are:
Save your time to install the products
No inventory costs and warehouse management
No cost for packaging, shipping and returns
You pay for the product only after collecting money from your customer
You can test the market with little investment
Spend more time on more profitable businesses, like marketing, advertising and customer management
Although many retailers find dropship an excellent solution to find products for their stores,
I have to be honest: "It's not a perfect solution in everything".
The dropship however has drawbacks:
Control over the packaging and packaging processes of the product is lost
The supplier can run out of a product that you have already sold
Shipping costs in dropshipping may increase
You can not take advantage of quantity discounts
In conclusion
Just imagine the money you save because you do not have to buy the products before selling them.
Everyone knows that after buying products, if sales are slow to arrive,
one begins to avoid anxieties and thoughts such as:
"Did I make a bad purchase? …
When will I return with the capital? …
and if I do not sell them? ".
Think about the time you save in having your photos ready,
You do not have to buy cameras dedicate hours to take the right picture for each product.
Even the descriptions are already ready, you just have to complete them
so they are more appealing to the type of customers you want to contact.
To continue…
Questions, doubts, uncertainties, perplexities? Click here
How does Bazarissimo work? Click here
Want to deepen the philosophy of those behind Bazarissimo?? Click here
Do you want to register or learn more about Bazarissimo? Click here